Royal Dog Shows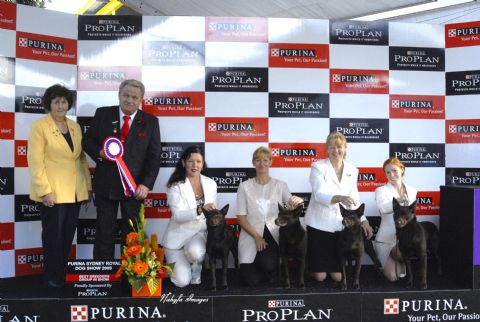 Photo Above: Winning Best In Show - Breeders Group
Judge: Mr O Germundsson (Sweden)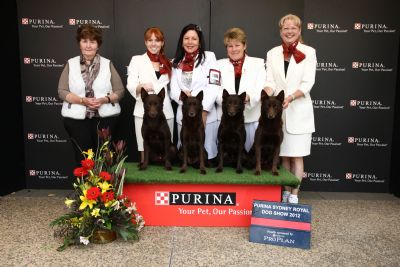 WINNER BEST BREEDERS GROUP IN WORKING DOGS SYDNEY ROYAL 2012
BEST BREEDER IN GROUP WORKING DOGS FOR THE THIRD TIME 2008, 2009 and 2012
Courtney, Robyn, Sue and Tracie with the winning team of dogs
Celebrating 30 years breeding the Australian Kelpie. Breeders of Supreme, Grand, Aust.Ch., World & International, Swedish, Dutch, Finnish Champions. We also have dogs in the USA.

SYDNEY ROYAL DOG SHOW
Judge: Mr. Goran Bodegard - Sweden

AUST. CH. WINGDARI DINKY DI OZ-"Becky"-BEST OF BREED
"BECKY" - "Absolutely gorgeous bitch, with lovely balance and most typical outlines, typical head and expression, beautiful set of neck, perfect topline, enough forechest and elbow well under, very lovely construction in rear, moves absolutely flawlessly."

AUST.GR.CH. WINGDARI MAN FROM SNOWY RIVER-"Clancy"-RUBOB
"CLANCY" - "Very beautiful male, sufficiently a nicely masculine dog, with very beautiful head, beautiful strong neck, particuarly nicely structured and created in front, with a good layback of upper arm, well developed nice body, could perhaps be a trifle shorter in topline, beautiful hindquarters, and moves very nicely. A very beautiful nice dog."


CANBERRA ROYAL FEB. 2014 - CH. DOG AND BOB "Bundy", CH. BITCH AND RUBOB "Becky", RES.CH.DOG "Clancy", JUNIOR OF BREED "Jessie" and our baby girl "Maggie" won 2nd Baby Puppy Bitch to her sister "Nikki" (owned by Megan Kain) who won lst Baby Puppy Bitch and BABY OF BREED. Congratualtions Megan and Nikki. Great day!!

AUST. WORKING DOG CHAMPIONSHIP SHOW MARCH 2014 - "Jessie" Ch.Bitch, BEST OF BREED, BEST JUNIOR IN SHOW (18 Kelpies entered).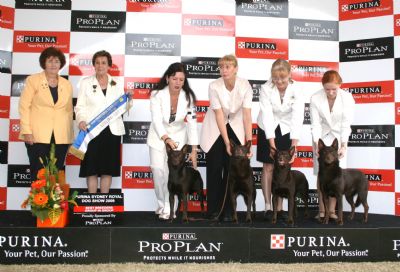 Photo Above - winning Best Breeder in the Working Dog Group
Judge: Mrs E Tan-Hietalahti (Finland)
BEST IN SHOW BREEDERS GROUP SYDNEY ROYAL 2009
To win this event again with the same team of four dogs "Chelsea", "Chaos" "Becky" and "Ben" was just unbelievable. To my dear friends Robyn Foster, Debbie Albert, Tracie Buckley, Courtney Smith - thank you so very much. For without your help and dedication to the dogs - winning this event would not have taken place again in 2009.
SYDNEY ROYAL WINNER 2008
BEST IN SHOW - BREEDERS GROUP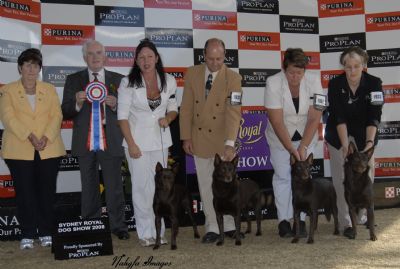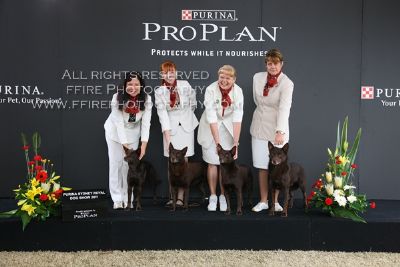 BEST OF BREED AUSTRALIAN KELPIE SYDNEY ROYAL 2008
AUST.GRAND CH. WINGDARI SWAGA - "CHAOS"
Craig Foster handling Aust. Grand Ch. Wingdari Swaga Chaos "Chaos" to his Best of Breed win at Sydney Royal Dog Show 2008. Thank you Craig so very much for all your hard work.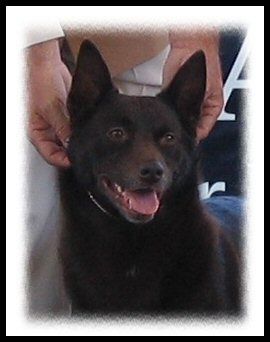 AUST. GRAND CH. WINGDARI SWAGA CHAOS - "Chaos"




Sydney Royal Best of Breed 2008




Member of the Best In Show Breeders Group Team Winner 2008 and 2009



Photo: Courtesy of Ron Bowden Photography Orange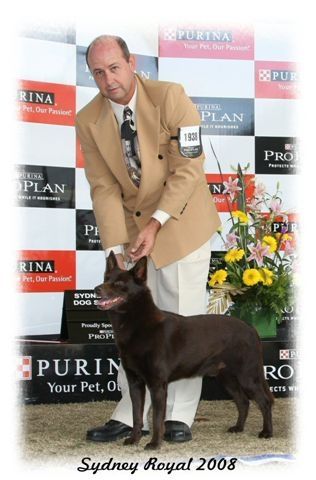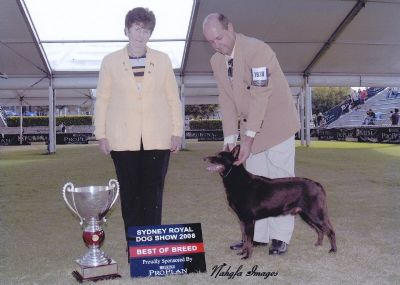 AUST. GRAND CHAMPION WINGDARI SWAGA CHAOS
"Chaos"
CHALLENGE DOG AND BEST OF BREED
SYDNEY ROYAL DOG SHOW 2008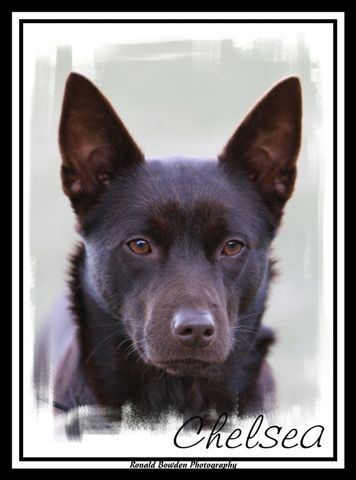 AUST. GRAND CHAMPION WINGDARI BUSH XMAS
"Chelsea"
CHALLENGE BITCH AND RUNNER UP BEST OF BREED
SYDNEY ROYAL DOG SHOW 2008
CHALLENGE BITCH AND BEST OF BREED
CANBERRA ROYAL DOG SHOW 2009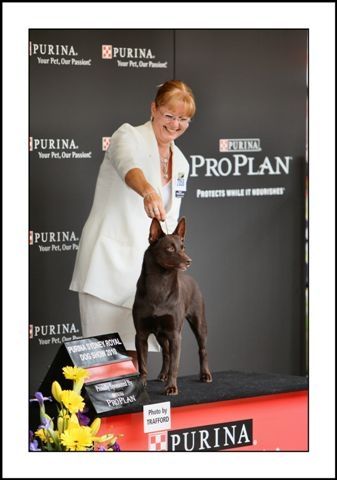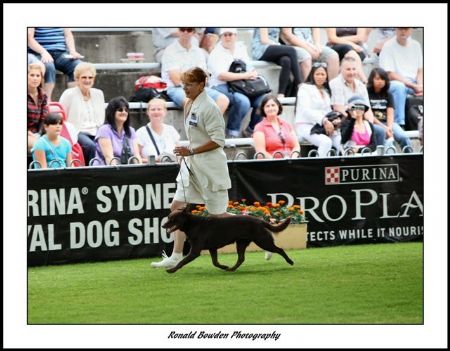 TRACIE AND BECKY WINNING AT SYDNEY (ABOVE)
BEST OF BREED AUSTRALIAN KELPIE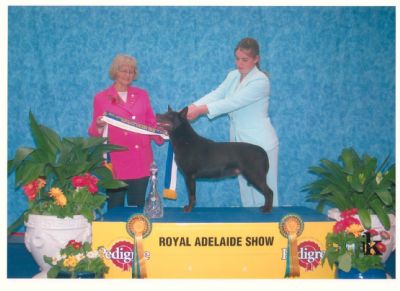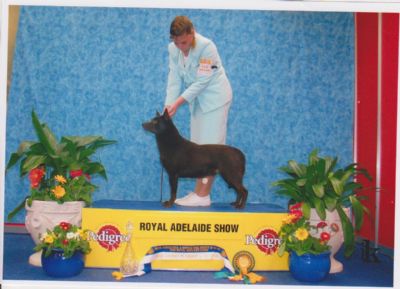 Aust.Ch.Mountainmist Sunaru (owned and campaigned by Wingdari) "Sonny"
CHALLENGE DOG, BEST OF BREED
RUNNER UP BEST EXHIBIT IN THE WORKING DOG GROUP, BEST AUSTRALIAN WORKING DOG IN SHOW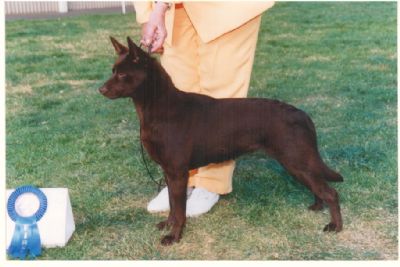 AUST. CH. WINGDARI OUTBACK SUNRISE
"Molly"
Puppy of Breed Melbourne Royal 2002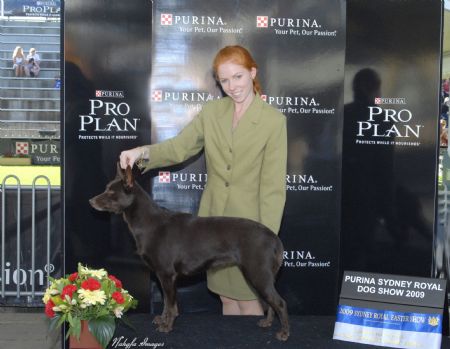 AUST. CH. WINGDARI DINKI DI OZ
"Becky"
Challenge Bitch and Runner Up Best of Breed
Sydney Royal Dog Show 2009
Handler: Courtney Smith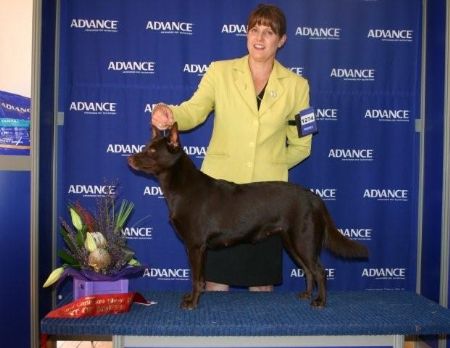 AUST. CH. WINGDARI DINKY DI OZ
CHALLENGE BITCH AND BEST OF BREED
CANBERRA ROYAL DOG SHOW 2008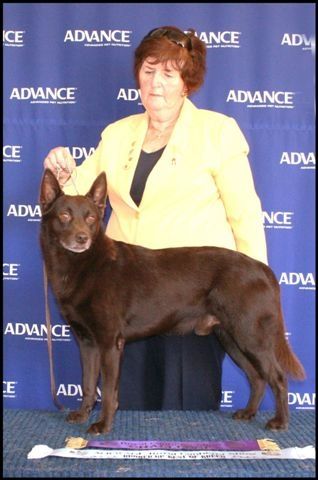 AUST. GRAND CH. WINGDARI SWAGA CHAOS
"Chaos"
CHALLENGE DOG AND RUNNER UP BEST OF BREED
CANBERRA ROYAL DOG SHOW 2009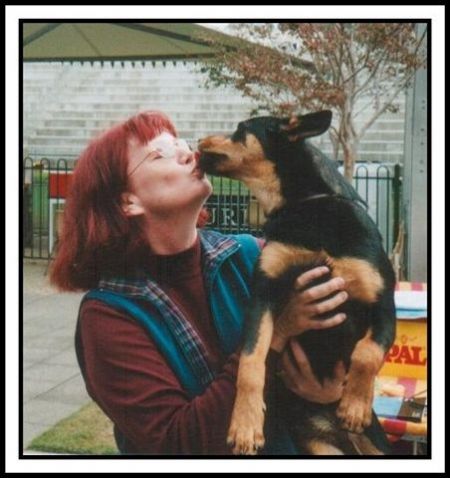 WINGDARI SHEARERS TRUBLU
"Meg"
Kissing cousins with Auntie Chris at Sydney Royal 2006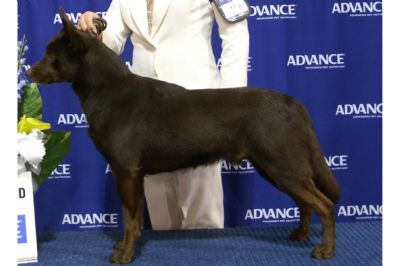 AUST. CH. WINGDARI DUNDROVIN
"Ben"
Adelaide Royal Dog Show 2008
CHALLENGE DOG AND BEST OF BREED
Sydney Royal Dog Show 2008
lst INTERMEDIATE DOG AND RESERVE CHALLENGE DOG
Sydney Royal Dog Show 2007
lst INTERMEDIATE DOG AND RESERVE CHALLENGE DOG
BUTTERBONE FAST LANE
"Lannie"
Darwin Royal Dog Show 2001
CHALLENGE BITCH AND BEST OF BREED
WINGDARI DROVERS SHADOW
"Banjo"
Darwin Royal Dog Show 2001
BABY IN SHOW
WINGDARI KELPIES BELOW WINNING AT SYDNEY, ADELAIDE, MELBOURNE, BRISBANE, DARWIN ROYALS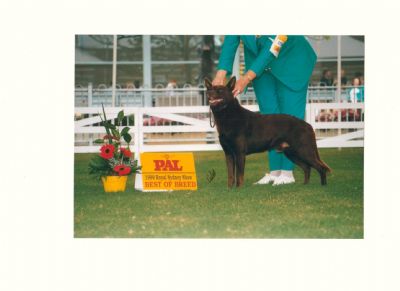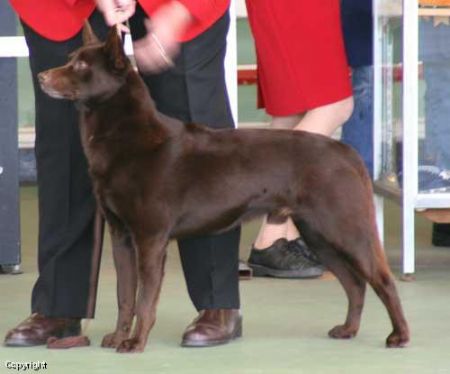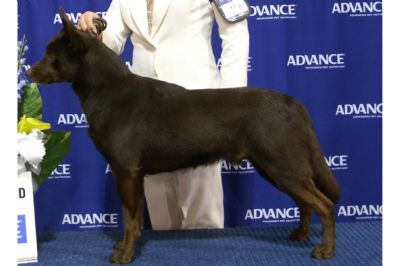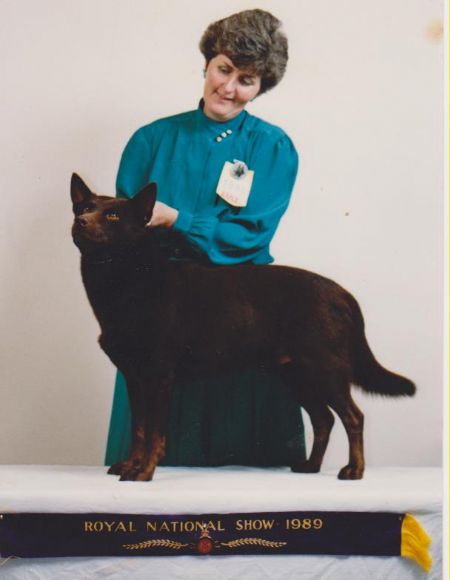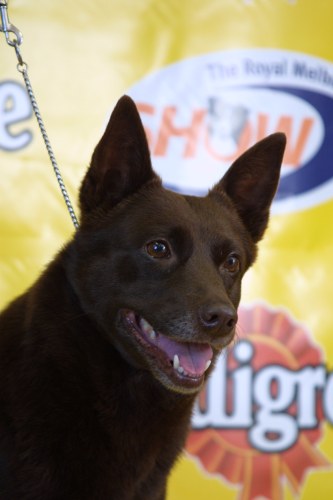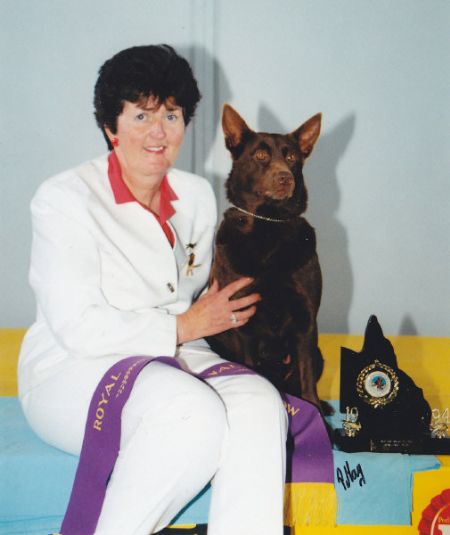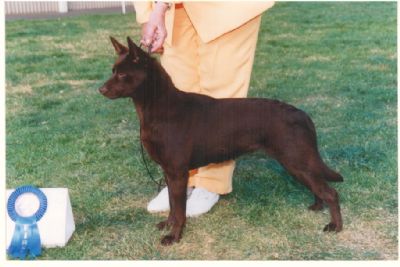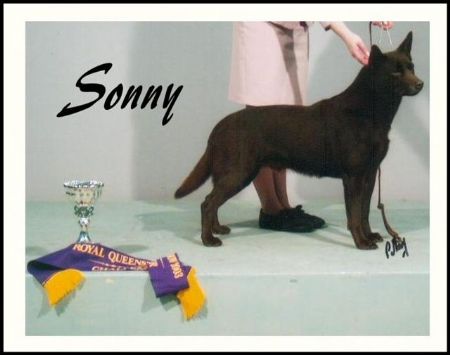 SYDNEY ROYAL WINNER BREEDERS GROUP AUSTRALIAN KELPIE 2011


Contact Details
Marie Colyer
Southern Highlands Area, NSW, Australia
Email :
[email protected]