RIBBONS AND TROPHIES
Photograph Above:
Thank you to Jenny a lovely lady who put together some of my Kelpies on her beautiful mugs, bags, t-shirts. This photo is taken from one of the mugs that Jenny made for us.
TROPHIES AND RIBBONS
This page is to display the trophies and ribbons that the dogs have won over the years. I have taken so many photographs but just stored them away on file. Decided that it would be nice to see once again the trophies from years past and present. This page will take a little while to put together as I have to go back and find the older photographers from way back in my files. The dates on some of the photographs is also wrong. At the time my camera was not working properly and I could not change the dates on the photographs.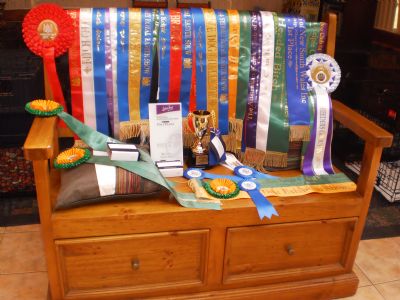 Sydney Royal 2014 wins & The Australian Kelpie Club Speciality wins 2014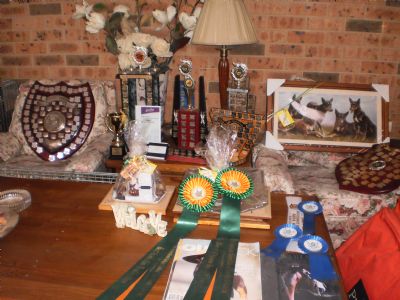 Aust. Kelpie Club of NSW Speciality Show BIS Shield (on left) won by our "Becky"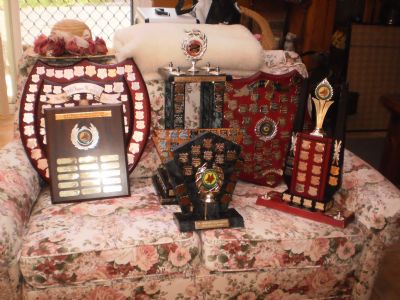 Aust.Kelpie Club of NSW Speciality Show Sept 2014 the dogs won twelve trophies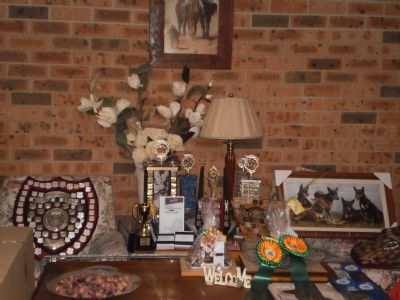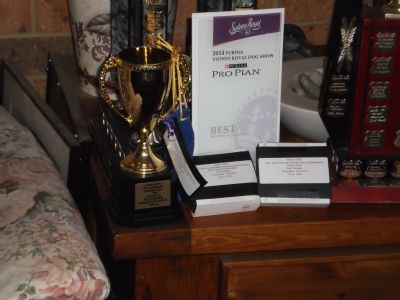 Sydney Royal 2014 Best Breeder In Show trophies, medal for Best of Breed, medal for "excellence"
and the gold cup was won by "Becky" for Best Australian Working Dog In Show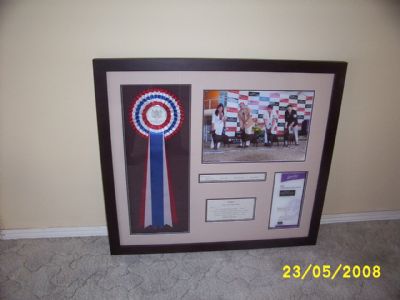 Sydney Royal 2008 Wingadari Kelpies were the first team to win Best In Show Breeders Group. Since then has
won the award in 2009 and 2014.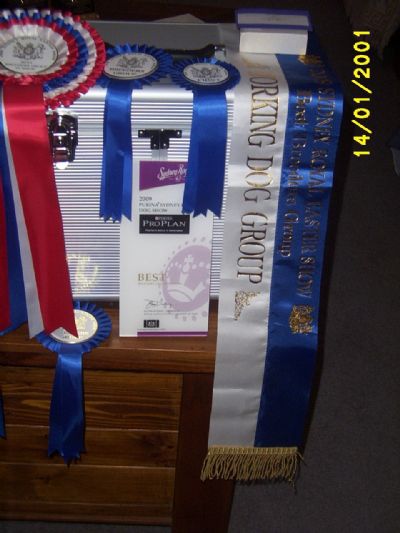 Sydney Royal 2008 Wingdari Kelpies won Best Breeders Team In The Working Dog Group and
then went on to win Best Breeders Team In Show. Trophies won by the dogs for these awards.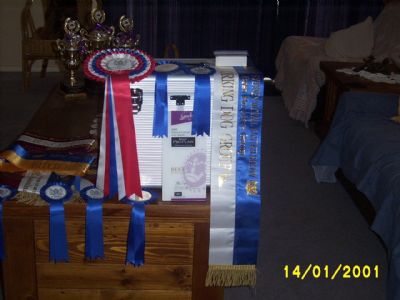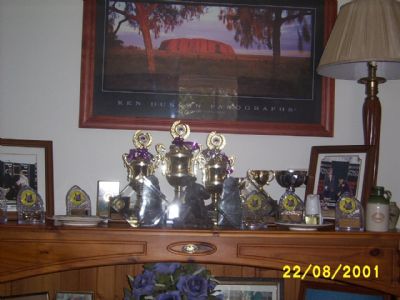 Trophies won by "Chelsea" Runner Up Best In Show, Best In Group, Intermediate In Show and
also gained her Grand Champion Title the same day. Glass trophies are for "Chelsea" and "Bundy"
for Winner of Winners at the Working Dog Club Point Scores.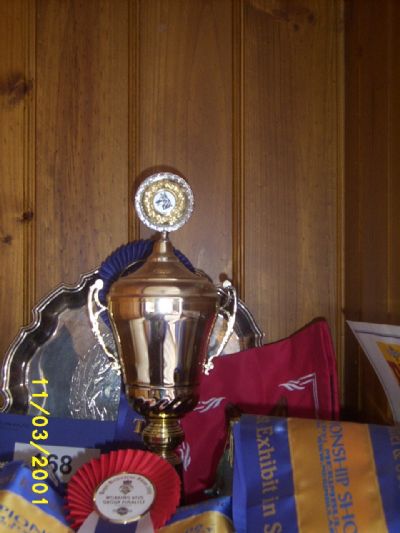 Budapest World Junior Winner Cup won by "Kim" who lives in Holland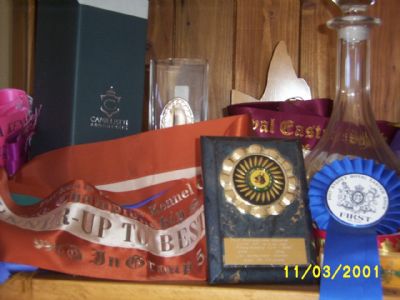 Grand Ch. Title trophy for our "Chaos". Glass wine decanters also won by "Chaos" for Best Exhibit in Group wins.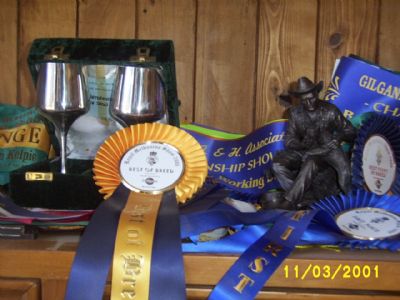 Best of Breed Melbourne Royal statue won by "Chaos" and the goblets were won years ago by "Uluru"
for Intermediate In Show at the Working Dog Club Show.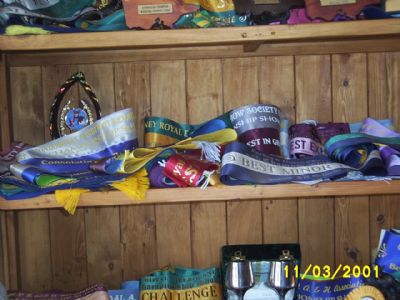 Numerous ribbons won by the dogs over the years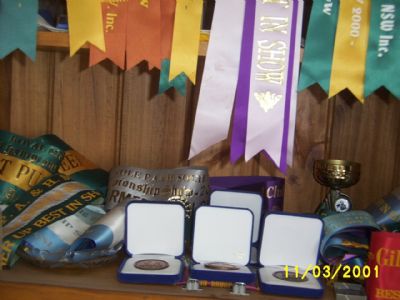 Medals for Best of Breed Sydney Royal the dogs have won over the years. Gold cup
in the background was from Dortmund in Germany won by a dog that I have exported to Holland.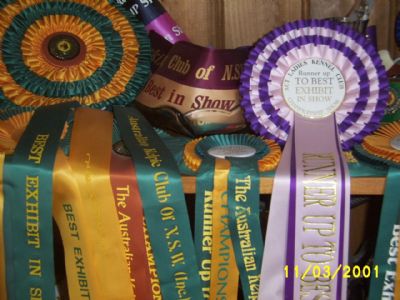 Best In Show All Breeds, Runner Up Best In Show All Breeds & Best In Show Speciality win ribbons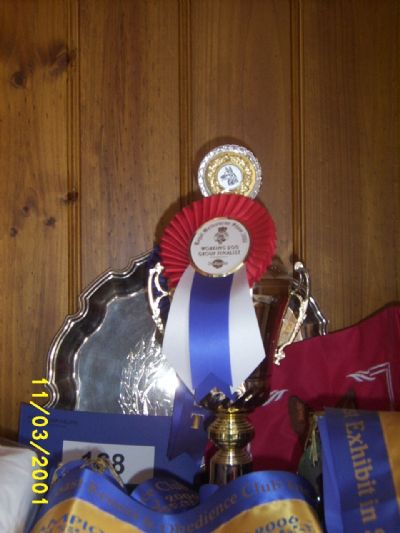 Melbourne Royal Top Eight In Working Dog Group - Chaos. Silver tray won by our "Possum"
for Best Exhibit In Show at the Australian Kelpie Club Speciality Show.

Contact Details
Marie Colyer
Southern Highlands Area, NSW, Australia
Email :
[email protected]